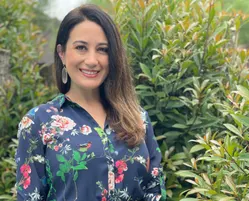 Phone: (832)995-2795
Email: [email protected]
Hi, my name is Karla Collazo, I am a bilingual Licensed Professional Counselor-Associate under the
supervision of Vicki Sears, MA, LPC-S. I provide counseling services to children, adolescents, and adults
using a variety of counseling approaches that best suits each individual client such as Cognitive
Behavioral Therapy (CBT), Person-Centered, Solution-Focused and incorporate Play Therapy for young
children. My specialties are working with individuals struggling with depression, anxiety, trauma, self-esteem issues, behavioral adjustment issues, ADHD, and life transitions. I have over 15 years of
experience working with children and families in a variety of settings and prior to private practice I was a
School Counselor.

I believe in the power of having one's story witnessed in order to move towards health and healing. I am
passionate about walking alongside clients as they navigate growth and change as I am fully assured of
the beauty found in vulnerability, creativity, and the therapeutic relationship.
If you have been wanting to take the next step towards counseling for you or your loved one, today is
the day! I would be honored in working together with you in creating a journey of joy, peace, and
healing.

What to Expect:
Once you have made an appointment, I will email you the New Client Paperwork (this must be complete
prior to our first appointment). You can email it to me or bring it with you to your first appointment.
For youth, the first appointment includes both the parent(s) and child. Future sessions with children
often include meeting with a parent briefly at the beginning or end of the session. Future sessions with
teens often include meeting with a parent every few sessions.


Payment:
$100 per session per 50 minute session (Cancelations less than 24 hours in advance are charged the full
fee).
Payment is cash, check, or Zelle. Payments are due at the beginning of the session.


Feel free to email me at [email protected] or Call/Text me at (832)995-2795 to set up an
appointment.